Regular price
Sale price
$11.95 USD
Unit price
per
Sale
Sold out
2 Part Special on 1 Disks. English / Japanese Audio. English Subtitles. TV-14
The Japan They Knew Is Gone
But As A People, They Must Endure.
It was the worst-case scenario. When the twin disasters of the eruption of Mt. Fuji and a massive earthquake hit Japan, the island nation was literally shattered and torn in two. With millions dead and the life-sustaining national infrastructure destroyed, mass evacuation of much of the country's population was the only alternative. But now the Japanese refugees living in Taiwan find themselves in conflict with the native citizens. There's not enough work, the living conditions are terrible, and what remains of Japan is occupied by China in the North and the U.S. in the south. Genichiro Ryu is just one of the survivors, but having been adopted by Taiwanese parents, he has a foot in both worlds and seeks to find a way to bring peace between the conflicting sides in A SPIRIT OF THE SUN.
Share
View full details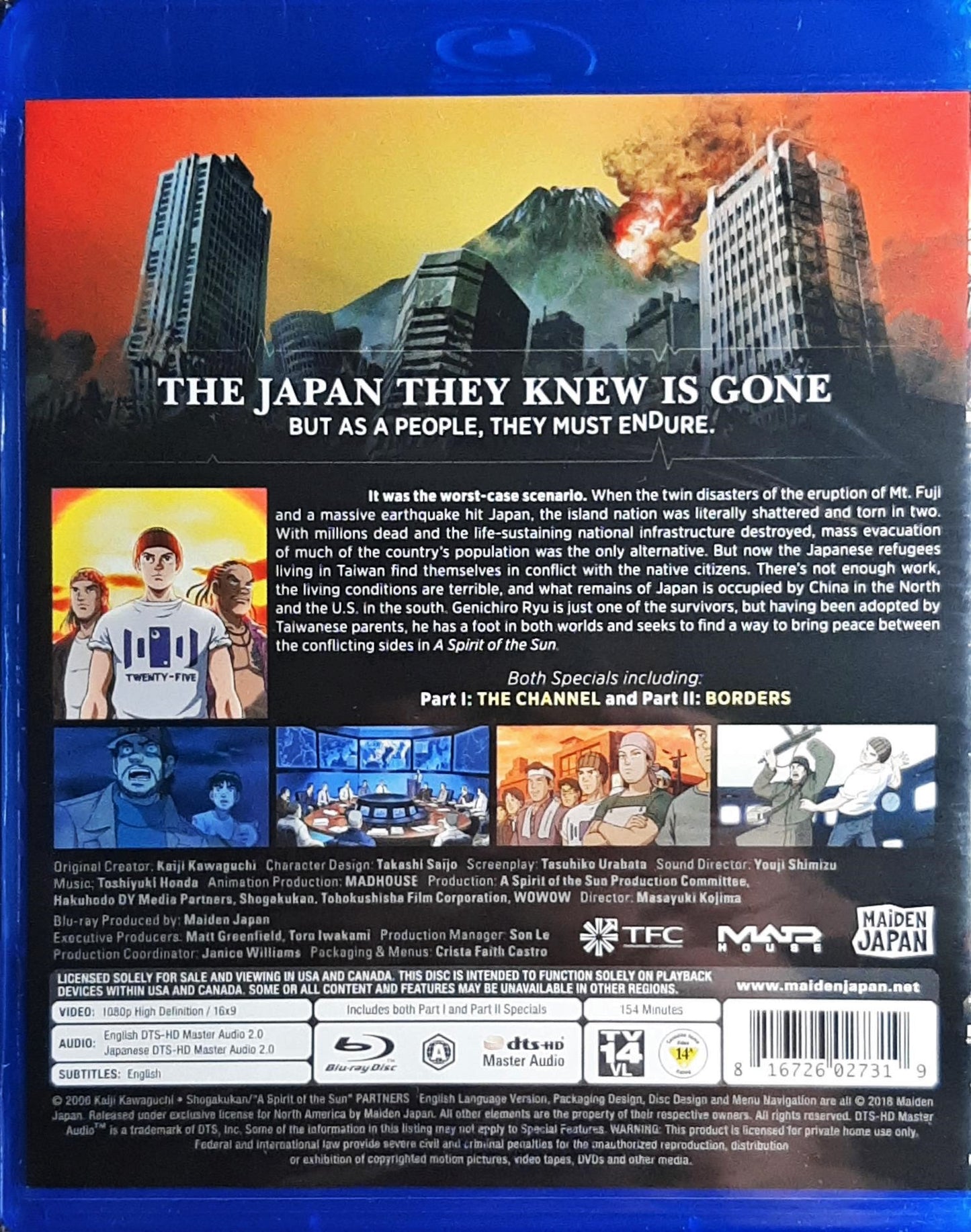 Collapsible content
NEXT DAY POSTAGE

We typically get our items to the USPS office by the next business day if
not the same day. No long wait here before your order start heading your way.
The exception to this rule is our Custom Print to Order products which take
about a week before being sent out. Normally our t-shirts, you can tell your
looking at a print to order item by the large Customize button near the
checkout button.
SAFE SHIPPING

Keychains are normally wrap with bubble wrap and sent out in a standard envelope.
Large orders of keychains may be package differently. For free United States
shipping we send these by first class mail.

Our DVDs and Blu-rays are sent in padded envelopes or if to big/much we will
send them in a box with padding. For free United States shipping we send these
by Media Mail.